What to do in Russia in winter?
You have probably heard a lot of stories about frosty Russian winters and may not imagine winter as a perfect season to visit Russia. However, many Russians look forward to winters as it is the season which makes the country unique: romantic snowy scenes and watching snowflakes melt on your fingers, sledging, snowball fighting and even skating on one of the largest skating rinks in the world – winter is likely to become your favourite season too.
Winter is arguably the most festive and cheerful season in Russia. Today we will look at why you should visit Russia in winter and what makes these chilly 3 months so special.
New Year in Russia
New Year is arguably the most important celebration in Russia. While Christmas is not given a lot of attention, New Year is highly anticipated and loved by Russian people. For this special occasion, the country changes its appearance and generously decorated fir trees together with New Year markets are popping up all over Russia. During this period, Moscow is the place to be as the main celebrations are taking place there, right by the Kremlin. A month in advance a vast New Year fair begins by the Red Square to welcome its guest with traditional Russian food like pancakes with caviar, hot pirozhky, jacket potato and truly Russian winter drinks: medovukha (a honey based alcoholic drink often with a tinge of berries, hop, herbs and spices) and sbiten (based on honey mixed with water, spices, and jam). If you want to try traditional Russian treats, the Red Square will not leave you disappointed. Apart from this, it is a perfect place to buy (and wear!) valenki, ushanka hats and other traditional Russian clothes without getting funny looks from locals.
31st December is the most important day and the Moscow government invests a lot of money to make it truly remarkable. Traditionally, there is a massive concert on the Red Square which lasts into the early morning hours of 1st of January. Do not miss out on excellent food, champagne and dancing right in the heart of the city.
The best restaurants and hotels are competing to accommodate the visitors of the city and local people. In 2018-19 Metropol Hotel will welcome everyone with a unique show in the historical Metropol Hall involving live jazz punk (Teona Kontridze), a performance by Peter Vostokov's Big Jazz Orchestra, an exquisite gala dinner with dishes from his signature menu (over 20 kinds of appetizers, a seafood station, specialties of contemporary Russian cuisine, desserts cooked by the Pastry Chef Atilla Szabo) and more! Another central hotel Petr I offers live music, Magic of Illusion performance, excellent dinner and even a performance of a Gypsy theatre Romen.
Meanwhile, away from Moscow, there are plenty of things to do in winter too! If you are tired of skiing in the busy and expensive skiing resorts of Switzerland and Austria, Sochi is one of the places to be. Gaining its popularity after the Winter Olympics 2014, Sochi has become one of the most exciting and luxurious skiing resorts in Russia. The government generously invested into the infrastructure of the region before the international competitions and have been spending a lot to maintain the result after the success of the Games to allow you to relive the experience of the best Olympic sports people. A total of 77 km of ski trails, 28 ski lifts and wonderful pistes with various levels of difficulty, length and vertical drop, Rosa Khutor in Sochi will not leave you bored. It is a special place for foodies too as they can try out a high-class restaurant at an altitude of 2,320 meters. Advanced infrastructure has made this unique place accessible to both beginners and experts and made Sochi a perfect place for a winter family holiday.
What makes the resort even more attractive is the price due to the beneficial exchange rate between the Pound Sterling and Rouble. If you prefer active winter holidays, Sochi will not leave you disappointed.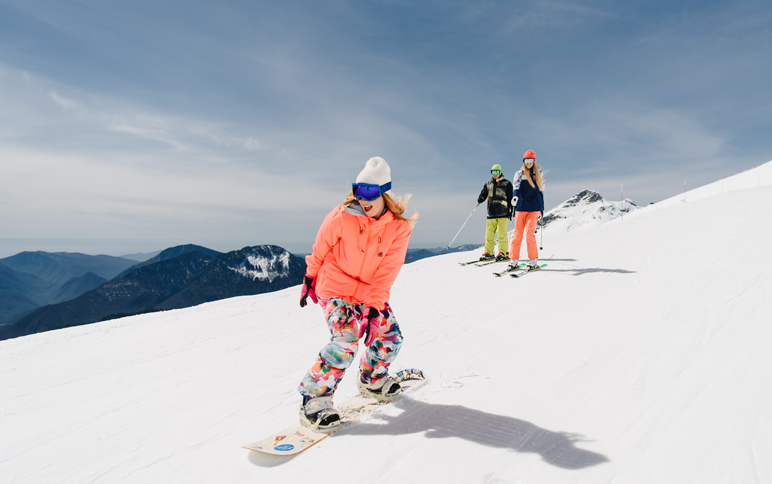 Skating and snow-tubing
One of the favourite winter pastimes for Russian people is skating. Therefore, it is not surprising that the biggest skating rinks in Europe found their home here. If you find yourself in Moscow in winter, do not forget to pop into VDNKH skating rink as well as Gorky Park. Apart from a good exercise, here you can listen to the music, try Russian street food without taking your skates off, participate in workshops as well as sports games with your fellow ice skating enthusiasts.
Interestingly, skating is one of the favourite ways to meet the New Year too! There is a skating rink right in the middle of the Red Square after all! Sip champagne, enjoy the views of Moscow at night and listen to the President's speech! The most anticipated event of the night.
If you want to try a truly Russian family winter experience, do not miss snow-tubing slides around Moscow and St Petersburg! Inflatable snow-tubes can be found in such parks as Kolomenskoye, Kuzminki, Okhta park and the like.
Russian Banya (Sanduny)
Banya (Russian sauna) has been known for many years as a truly Russian pastime. There is no better time to familiarize yourself with this tradition than winter. When it is frosty and snowy outside, banya can become a welcome resort to tourists and local people alike. Historically, banya was an important place for communication in Russian culture used by all classes of Russian society. The tradition was so strong that even today it is a place where Russian business people and politicians meet! Sanduny is arguably the most historically famous Russian banya and an architectural landmark. Here you can challenge the heat, dive into Russian culture and get massage with bunches of dried branches and leaves from white birch, oak or eucalyptus (called banny venik). Russians believe that the latter will improve your blood circulation…and will serve the experience of Russia you will never forget! We will help to make you your reservation in advance as the tickets sell extremely fast! A lot of movies have been filmed in Sanduny and it has been popular not only with tourists and locals but even with Hollywood actors!
Winter Adventures
Winter is a perfect time for adventure in Russia. If you would like to do something unusual this winter, why not visit Kamchatka for snow, volcanoes and amazing wild life? They say that Kamchatka is a land of bears and volcanoes, and it does live up to this name. It is a perfect place for salmon fishing, volcano climbing, skiing, heli-skiing and dogsled tours. Heli-skiing is our favourite for the winter! Jump out of the helicopter to land high on the top of a volcano and enjoy virgin slopes and marvelous landscape of this wild region. Needless to say, you have to be a good skier for that. Not very good at skiing? There are plenty other things to do in winter for an adrenaline rush. Many Russians who are into extreme sports like winter swimming! The trick is to drill a hole in the surface of a lake or a river. The water temperature under the ice is warmer than the air and your body will warm up. The hotspots for this extreme activity are rivers and lakes but also the Sea of Okhotsk!
Another amazing thing to do is travel to Yakutsk, as it is a perfect place for a reindeer sleigh ride! One of the world's coldest places it boasts unforgettable authentic atmosphere. But do not forget the hat and mittens!
Unique Beauty of Baikal
If you are not keen on extreme but still fond of adventure, Lake Baikal would be a great place for a winter holiday. The most breath-taking photos of Baikal are taken in winter because the place attains a special charm on cold winter days. The ice covering the surface of Lake Baikal is a unique feature of the lake and has a lot of names in Russian due to its unusual looks and qualities. It is also extremely strong and allows great freedom of movement as you can travel across the lake by car! Have a motorbike tour on the ice, try dog-sledding, cross-country skiing or even scuba dive beneath the ice! The time spent in here in winter is truly unforgettable.
Maslenitsa
The end of the winter is celebrated by a whole week of fun activities and delicious food! This is a perfect time for your Russian holiday as in every corner of the country people play folk games, dance to traditional music and even burn the symbol of the leaving winter, Lady Maslenitsa! Every day of Maslenitsa has a traditional meaning, so it is a unique way to discover Russian culture as well as try out free pancakes in most city centres!
More on Maslenitsa in Russia here
Better Prices
Last but not least, winter is the best time to go to Russia for your budget! While summer Moscow and St Petersburg are swarming with tourists and the prices hit the ceiling, winter is the time when you can explore Russia as it actually is without spending a fortune. As the Russian saying goes: "You will spend the coming year exactly in the way you will meet it". So make a red-nosed snowman, go skiing and skating, withstand the heat of Russian banya, rock valenki and ushanka hats and the next year will definitely become the best!
Related links and articles:
Banya Sanduny -https://msk.sanduny.ru/ru
Restaurant of Russian cuisine Pushkin - https://cafe-pushkin.ru/en/
New Year in St Petersburg - https://www.into-russia.co.uk/russia/new-year-in-st-petersburg
New Year in Moscow - https://www.into-russia.co.uk/russia/moscow-for-new-year
The joy of Russian Winter - https://www.rbth.com/blogs/2013/12/18/the_joy_of_a_russian_winter_31743
Advantures on frozen Lake Baikal - https://metro.co.uk/2018/08/28/the-jewel-of-siberia-an-adventure-on-the-frozen-lake-baikal-the-oldest-and-deepest-lake-in-the-world-7848933/
New Year at Lake Baikal - https://www.into-russia.co.uk/russia/lake-baikal-new-year-break
Contact us by phone or email today with any queries, to book, or for excellent rates and service on add-ons to your trip.